Unlike most wedding venues, Juniata Valley Winery truly is a "two-in-one" deal. With two separate venues on site, couples have the ability to choose a more rustic barn-style location or choose a more traditional Georgian location to say their vows in front of family and friends. Better yet, each venue on-site comes with overnight guest accommodations to make the wedding an event to remember for friends and family!
Want to see more venue options in the State College area for your wedding day? Check out my Top State College Wedding Venues page.
Reception and Ceremony Spaces
Seating up to 200 guests, Aisling Hall is the more rustic venue on site with wood beams, hanging chandeliers, and large barn style doors that can be opened to enjoy the outdoors and vineyard views on the property. With three outside ceremony locations to choose from, couples are sure to be able to find the perfect spot to say "I do"! Options include: a backdrop of winding vineyards, a rustic brick wall for a more industrial feel or in front the main event space with rich wood tones. This venue also allows for the opportunity to spend the weekend at the on-site Bed & Breakfast, the Wilson House, where up to fifteen individuals can stay (and enjoy complimentary breakfast in the morning).
Built in 1911, The Manor is the second venue on site with a traditional Georgian style building that has a large ballroom (fitting 175 guests) surrounded by glass doors. The Manor includes a music room, parlor and dining room as well for guests to enjoy. Unlike Aisling Hall, this venue has one main ceremony space outdoors using a pergola and lush greenery as the backdrop. In addition, The Manor has overnight accommodations on-site for up to 22 guests  with a complimentary breakfast to be served the morning after the reception.
Regardless of which venue you choose on site, the rental packages will include a venue coordinator, customized floor plans, set-up/tear down of all ceremony/reception tables and chairs, bartenders, access to the bridal suite, parking attendants, additional overnight accommodations, wedding coordination, catering, china place settings, table cloths, and event décor rentals.
Pricing and Packages
Starting with Aisling Hall, for a weekend package that includes ceremony seating, a venue coordinator, parking attendants, bar and service staff, set up and tear down, access to the bridal suite and more- the price is $6,900. For a one day overnight package with the same amenities (also for 200 guests) the price is $6,150. For a one day package (not overnight) the total comes to $5,200.
As for The Manor, for a weekend package for 175 guests and the amenities previously mentioned, the cost is $7,900. The overnight package is $6,600 and the one day package is $5,500.
For a wedding with 60 guests and under, Juniata Valley Winery  has a package for $2,500 that includes the ceremony location, reception location, a venue coordinator, parking attendants, bartender, golf cart service, set up and tear down, an on-site bridal quite, allotted time for the rehearsal and more.
For an elopement with 25 guests or under, Juniata Valley Winery offers a package for $1,000 with all of the same amenities (except guests will only have access to the venue for 4 hours instead of the usual 8 hours).
Reviews and Testimonials
With two venues on one site, you may be concerned that something could fall through the cracks- but no need. After reading through reviews, one thing is clear: Juniata Valley Winery does not disappoint. One bride on WeddingWire wrote, "every piece of the property is picturesque and provides the perfect backdrop for the ceremony you could dream of" but the best part of the weekend was how "everything was executed beyond our expectations" and the happy couple "couldn't be happier with their service." Several reviews also mentioned how wonderful the on-site wedding planner, Molly, is – so, if you are in need of a planner consider hiring Molly!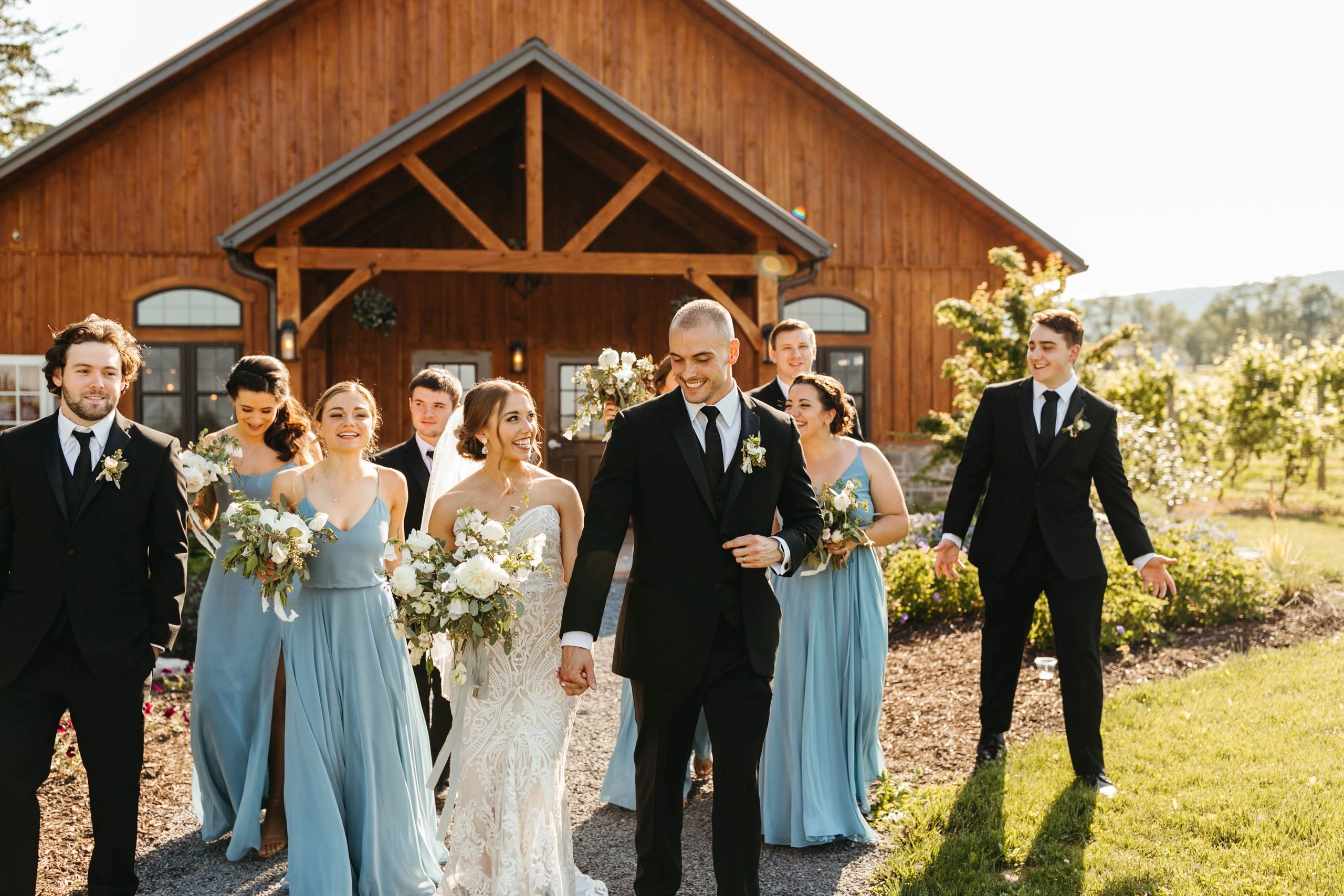 Photo Opportunities
At Aisling Hall, dark woods, modern windows and greenery in every direction create a romantic and rustic backdrop for photos. At The Manor, Georgian detailing, brick, elegant gardens and the ceremony pergola allow for timeless and classic photos from morning until night.